Compliance Without The Misery
NobelBiz OMNI+ powered by Safe Select
Futureproof Your Outbound Compliance
NobelBiz partners with the leading compliance software to offer the safest contact center ecosystem
Safe Select, developed by Customer Dynamics, was designed to safeguard and futureproof the interests of outbound contact centers, offering active protection against present and future regulation changes.
Nobelbiz now takes the misery away from contact center owners and managers. By combining OMNI+ with Safe Select and using a non-automated system, we now offer up to 30% more efficiency than regular manual dialing.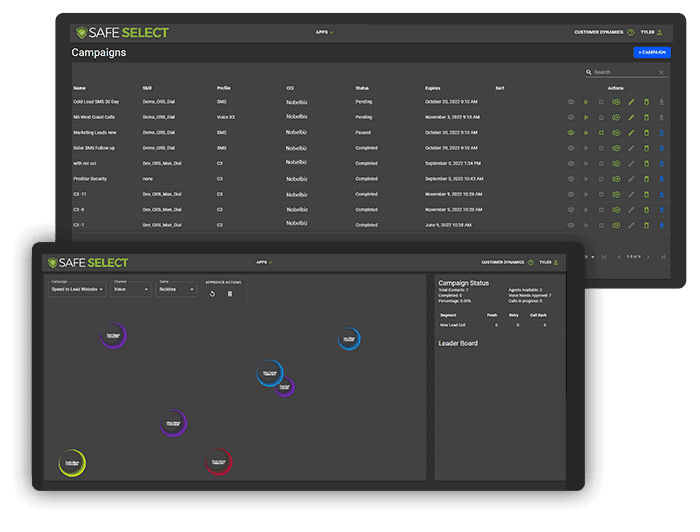 Customer Dynamics has award-winning products to help customers with omni-channel outbound campaigns with critical compliance needs while also increasing agent efficiency. Customer Dynamics products are designed to meet Contact Center Compliance obligations, optimize the agent experience, drive business results, and increase your customer's satisfaction.
The Swiss-Army-Knife of Outbound Compliance
OMNI+ powered by Safe Select allows you to operate safely in the TCPA world.
Running outbound campaigns in today's legal environment is a major challenge for most, if not all, contact centers. By combining OMNI+ with Safe Select, it becomes one of the most convenient and easy-to-use CCaaS solutions that can remain compliant both with the federal TCPA and individual state laws.
Contact centers feel the pressure of having to constantly update their technology stack to meet the latest non-consented outbound requirements (ex. the ever-changing ATDS vs non-ATDS conundrum).
OMNI+ powered by Safe Select is here to put an end to all the present and future compliance-related issues. In short, you get access to a robust compliance mechanism that can quickly adapt to existing and future regulations without any major overhauls.
Our non-ATDS system does not make use of a random number generator nor does it dial numbers from a list in sequential order. The entire process depends on the human selecting the next number to be called or the next message to be sent. You get full traceability for an audit: when the click was made, date, time, stamp, etc.

We Keep Contact Centers Safe with 3 Simple Steps:
Integrating Customer Dynamics' human approval call sequence selection tool to bypass all the ATDS complications.
Closely monitoring the legal evolutions on a state and federal level.
Updating the integrated suppression engines accordingly so that contact centers can remain compliant no matter what the future holds.
Lead Fraud Protection & Consent Ambiguity
Outbound can easily cross the TCPA red line without even knowing it, especially when dealing with outbound lists that might not be 100% consent-proof. In today's world, there is a lot of consent fraud going on: consent forms can be up to 45% fraudulent.
By using OMNI+ powered by Safe Select, contact centers can remain compliant even if the list is not 100% consent-proof.
The protection offered by the OMNI+ powered by Safe Select, also looks beyond the voice-only environment. It allows contact center businesses or departments to stay compliant in an omnichannel environment (Phone, Email, SMS, Chat, etc.)
Why Nobel

Biz

chose Customer Dynamics
"We are a world leader in what we do, and as a world leader, people are coming to us asking for solutions that meet all of the different regulations and that require us to find the best solution in the market to partner with; experts that know what they're doing. And we chose to work with Customer Dynamics, and the specific tool they have – Safe Select. "
NobelBiz is the leading innovator in contact center solutions, both carrier and software.
We provide a high-quality carrier-of-carriers network that connects the world. Beyond that, our efficient omnichannel contact center software builds on our already extensive portfolio of services so our clients get a complete contact center solution built for their needs.
Why waste time working with outdated and unwieldly programs when you could be gaining time and winning contracts with us?